Multiresolution Neural Networks for Imaging
News
---
[Aug 25th 2022] Page online.
Abstract
---
MR-Net is a general architecture for multiresolution neural networks, and a framework for imaging applications. Our coordinate-based networks are continuous both in space and in scale as they are composed of multiple stages that progressively add finer details. Besides that, they are a compact and efficient representation. We show examples of multiresolution image representation and applications to texture magnification and minification, and antialiasing.
Paper
---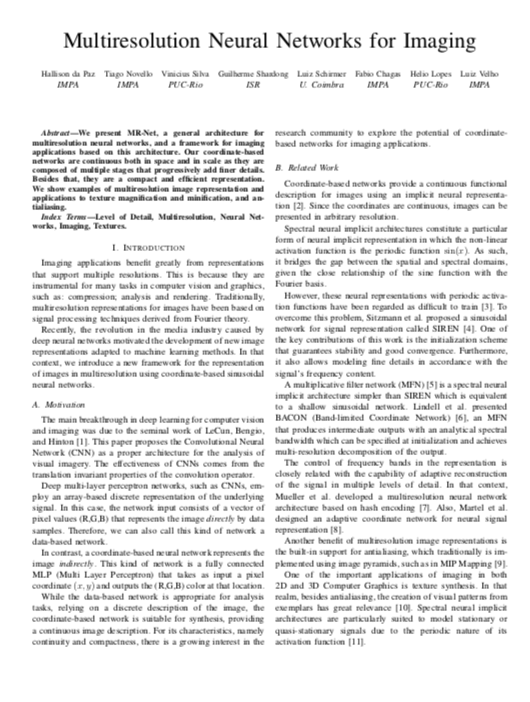 Multiresolution Neural Networks for Imaging
Hallison Paz, Tiago Novello, Vinicius Silva, Guilherme Shardong, Luiz Schirmer, Fabio Chagas, Helio Lopes, Luiz Velho
Please send feedback and questions to Hallison Paz.
Citation
---
@inproceedings{paz2022mrnet,
		title = {Multiresolution Neural Networks for Imaging},
		author = {Hallison Paz and Tiago Novello and Vinicius Silva and Guilherme Shardong and 
			      Luiz Schirmer and Fabio Chagas and Helio Lopes and  Luiz Velho},
		booktitle = {Proceedings of SIBGRAPI},
		year = {2022},
		}
		
Acknowledgements
---
We would like to thank Daniel Yukimura for participation in the early stages of this project